This story was inspired by this image. It is one of a collection housed here: https://beafordarchive.org/archive-image/untitled-2661/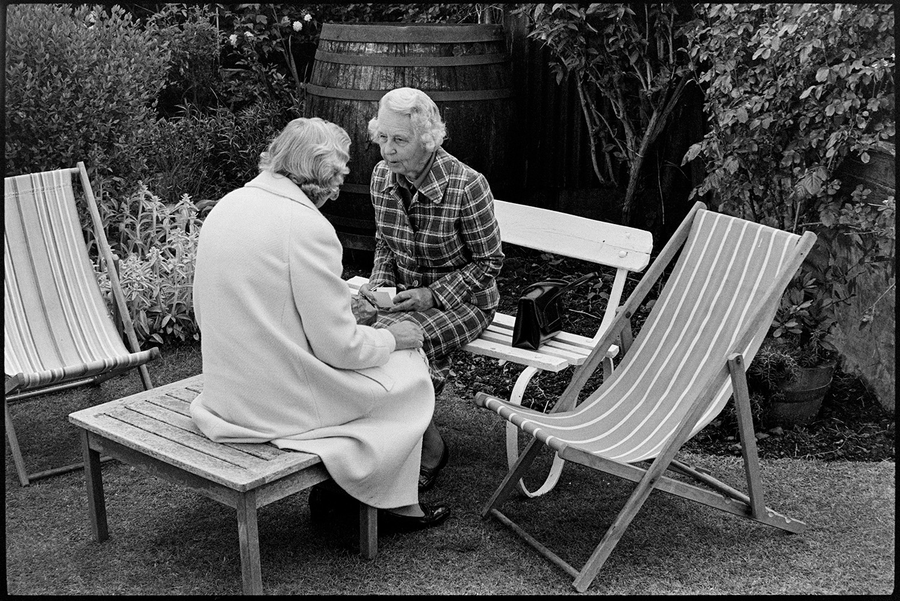 "Dearest, we can't leave Henry in the barrel."
Rachel whispered, even though she knew there was no one close enough to hear. It was a habit Rachel developed as a girl while away at school. She always approached the discussion of difficult situations with hushed words.
Alice didn't seem to grasp the gravity of the situation. She always had trouble staying focused, but Rachel was always there to help bring her around. It was what best friends were for, after all, to fill in gaps and pick up the pieces. And this situation was an example of a very large piece. As of 3:15 that afternoon, Rachel was no longer the only widow on Shewsbury Lane, but when her Billy died, she wasn't likely to be questioned by authorities.
"I just don't understand, Rachel," Alice spoke right out loud. "How could he have gotten into the barrel?"
"Shhhh! Alice…" Rachel tried to intervene.
"We are reported for our shameful hedgerow every year," Alice continued. "It's common knowledge amongst the garden club Henry doesn't like ladders."
"We really must call around to the constable, Alice," Rachel tried a new tack. "Perhaps they can find clues? Like the detective shows? In any case, Henry should be pulled from the barrel, dearest."
Practicality. Perhaps that would get through. Rachel was sure her friend was suffering from shock, so laying out a plan of action might cut through the fog.
"I wonder if there might have been a bird?" Alice squinted up at the willow beside the patio. "Everyone knows what a heart Henry has for wild things. Perhaps a bird got into the barrel? Or a pussy cat?"
Rachel checked her watch. She'd come as soon as Alice rang, and it was now 5:30. They'd been sitting in the garden for two hours fifteen. She was sitting on a table, because the only chairs  available were never meant to be lounged on by women of a certain age. She'd missed tea. It was time to stop this foolishness.
"Alice!" Rachel rose to her feet and spoke with a full-throated authority that made her flush.
"Alice, we really must be done with this speculation. The purpose Henry had for being in the garden in his pajamas and the reason he climbed the ladder are quite unknowable. The only thing we are left to do now, Alice, my dear, is have Henry removed from the barrel."
Alice smoothed her plaid wool skirt and cocked her head to look up at her best friend. Rachel had given her the skirt for her 60th birthday a decade ago, and Alice was secretly quite chuffed it still fit.
"Why, of course my dear," she replied with a smile. "But first, shouldn't we decide on my alibi?"